Arran Lochranza Castle
Detaljer

Publiceret: Torsdag, 4. april 2019 16:43
Skrevet af MacNiels
Arran lancere den næste i serien 'Explorers Series' og har fået navnet Lochranza Castle.

Lochranza Castle er efterfølgeren til Brodick Bay og er en 21 års aftapning.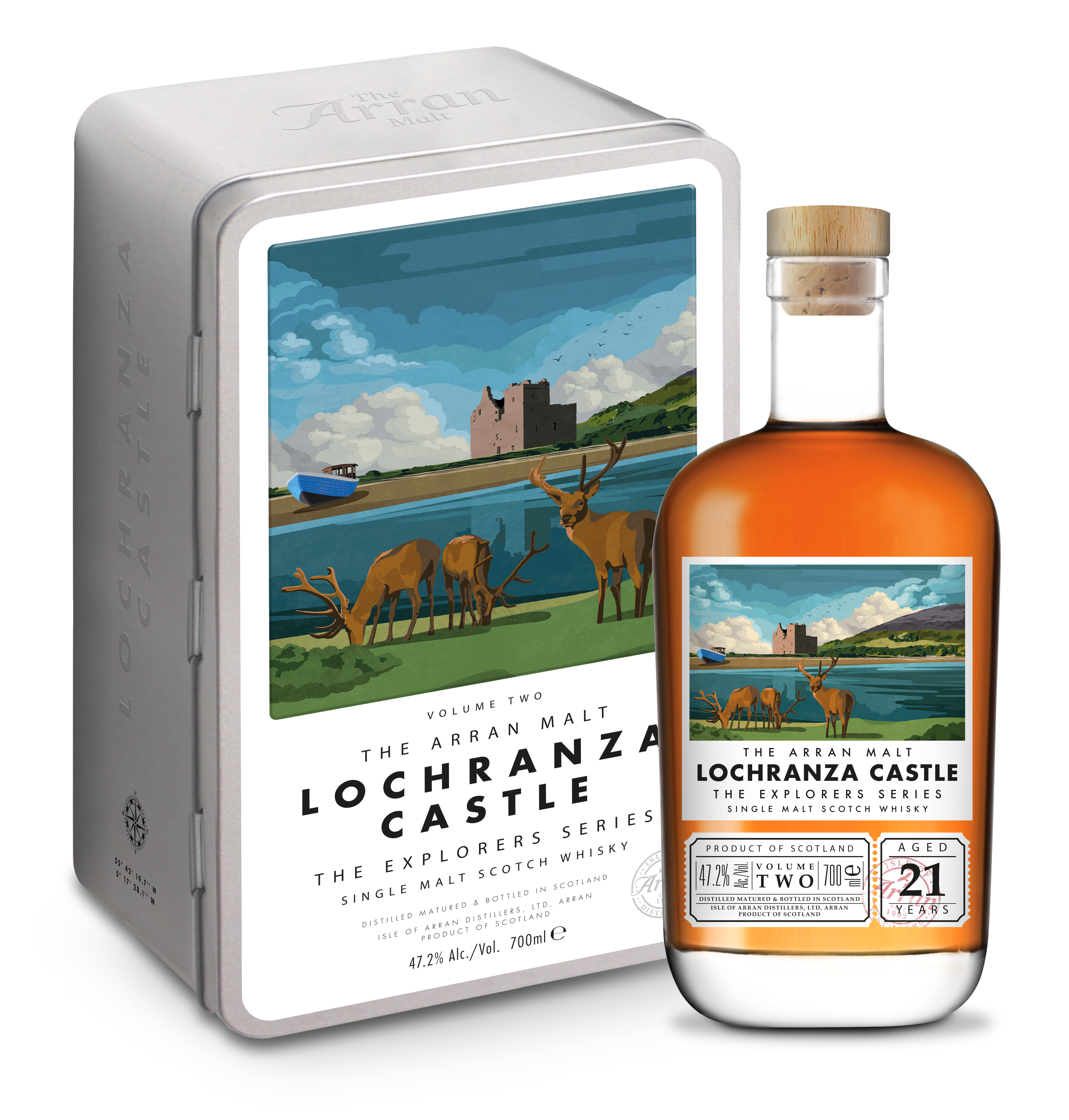 "On the northern coast of the Isle of Arran, the visitor will enter the picturesque village of Lochranza, home of The Arran Single Malt. Stretching across the wide bay in the middle of the village lies a short peninsula upon which Lochranza Castle strikes a solitary figure across the landscape. A rare sight, it was originally built as a medieval hall-house in the 1200s and today stands proudly as a focal point of the village. Stags roam freely and the natural amphitheatre of the hills provides a stunning backdrop for this ancient ruin, sparking the imagination of the visitor and creating a sense of the history of this tranquil coastal village."

Denne 21 års aftapning har ligget på sherry hogsheads inden den er blevet afsluttet på amontillado sherry fade fra Bodegas Tradicion i Jerez De La Frontera i Spanien.
Der kommer 9000 flasker af denne aftapning, aftappet ved 47,2%.

Noter (Arran):

NOSE: Rich, layered and complex. Caramelised almonds and chocolate covered crystallised ginger dovetail with deep aromas of dried apricots and caramelised brown sugar. Dusty smells of the dunnage warehouse abound.

PALATE: Bright and mouth coating, showing notes of honeycomb and salted caramel. Herbaceous accents offset the orchard fruit which comes to the fore to display the ever-present Arran house style. Seamless integration of age, wood characters and Arran spirit.

FINISH: Enigmatic, developing toward Assam tea and subtle cigar smoke. A resurgence of freshness completes the circle. A fabulous example of Arran in more advanced years.


Arran Lochranza Castle kan købes fra den 9. april i visitor center hos Arran og via deres hjemmeside.
Pris: ca. £135


Kilde: Arran