The Chess Malt Collection The Black Pawn - C7
Detaljer

Publiceret: Søndag, 17. December 2017 14:37
Skrevet af MacNiels
Næste aftapning i The Chess Malt Collection er The Black Pawn - C7, som er en 20 års aftapning fra Auchentoshan. Auchentoshan blev grundlagt i 1823, samme år som "Excise Act" blev introduceret.

"The Act sanctioned the distilling of whisky in return for a small licence fee of only £10. Over the next decade smuggling almost died out completely. The "Excise Act" laid the foundations for the Scotch Whisky industry as it is today. We are sure you will enjoy this malt, that is produced at the only distillery in entire Scotland that are doing 100% triple distillation."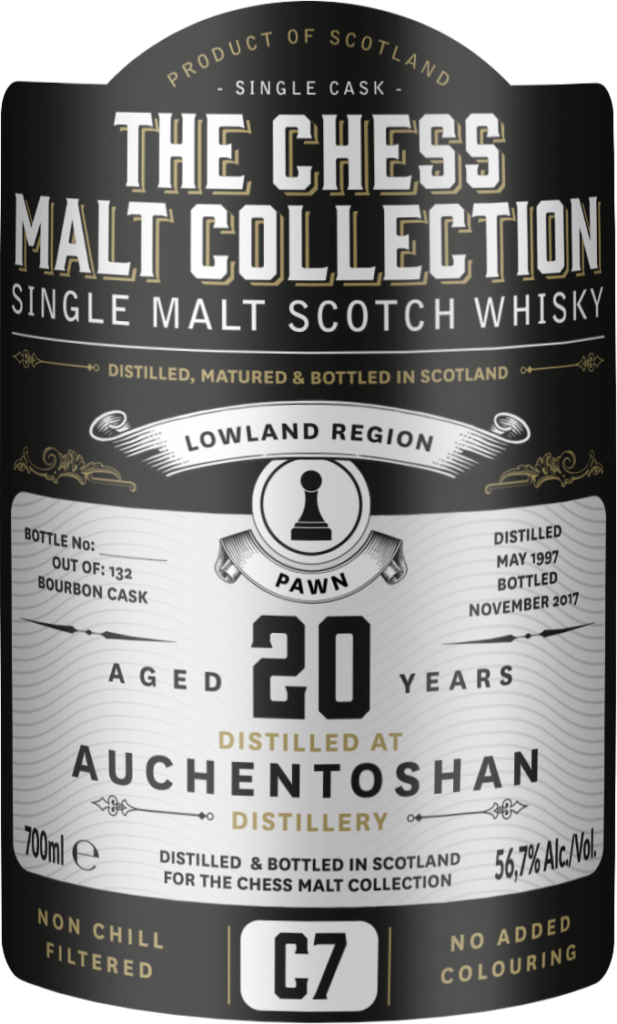 Første aftapning var H1 fra Craigellachie
The Black Pawn - C7 kom i handlen den 15. december 2017. Det er som sagt Auchentoshan fra 1997 – 20 år gammel Lowland Single Malt på 56,7% der har tilbragt sin tid på et ex-bourbon fad.
Noter (Lago):

Appearance: A nice and deep golden mature barley appearance.

Nose: Fruity with citrus and some sweet notes with a hint of vanilla and coconuts and toasted almonds.

Kilde: Lago